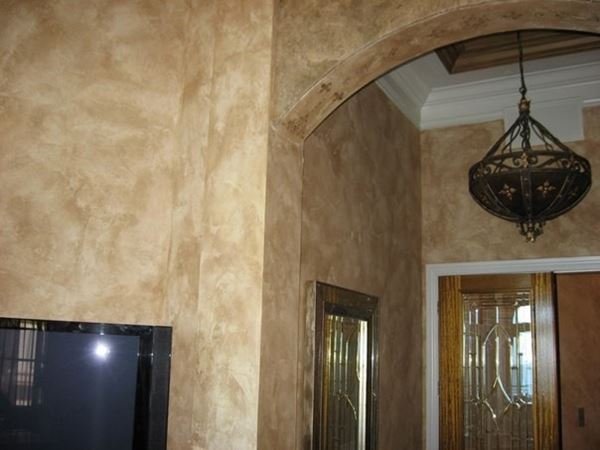 Venetian Plaster and Faux Finishing Techniques|Faux Painting and Venetian Plaster|Distinguishing Between Venetian Plaster from Faux Finishing Venetian plaster is a wall and ceiling decorative finish, which consists of plaster mixed with marble dust, applied with a spatula or trowel in thin, multiple layers, which are then burnished to create a smooth surface with the illusion of depth and texture. When the walls are left unpolished, the Venetian plaster produces a matte finish that is rough and stone-like to the touch; in effect, unpolished Venetian plaster is very brittle and can easily be damaged. The usefulness of Venetian plaster is when it is utilized as an alternative medium on surfaces where marble panels could not be easily installed or on surfaces that would be too expensive to carve from real marble, such as columns, corbels, and curved walls. Tinted or colored Venetian plaster are oftentimes produced using natural or synthetic colorants, in which this technique is especially helpful when a specific marble color is desired or when a color that does not exist naturally is required.
Where To Start with Services and More
Authentic Venetian plaster is not a faux finish, and its authenticity can be distinguished in such a way that when natural, lime-based Venetian plaster is applied, it will eventually return to its original state, which is lime and marble.
Learning The "Secrets" of Options
Lime plasters are called Venetian plasters, because they can tolerate rising damp and canal-side applications, like in the lagoons of Venice, and this is also the reason why authentic Italian Venetian plasters are good choices for surfaces that are always exposed to moisture, since lime plasters perform extremely well in wet climates by allowing any water that is absorbed into the plaster to quickly evaporate and exit the structure. Venetian plaster is a lifetime … Read More ...